NEEDLE by NEEDLE
The Art of Crafting an Exceptional Sweater
Sweaters are some of the most important pieces in our line each season, often the spark of inspiration our design team needs to form the rest of the collection.
And the best thing about working with sweaters is their limitless variety of expression. Sweaters challenge us to push for a fresh perspective. They can go from sophisticated lightweight layers to chunkier, more robust knits that are nearly as warm as some of our outerwear.
Our most elevated examples go from imagination to finished form in London. Our relationship with the team who operates the artisanal workshop in the northern reaches of the city is built on a foundation of trust, respect and collaboration, and dates back to the founding of Peter Millar 20 years ago. It's just as essential to what we are striving for today as it was at the start.
Our design team generally starts by meeting our partners face-to-face to review research on yarns and colors, laying out a wide range of different options. For new seasonal designs, we'll talk through motifs, patterns, stitches, gauges and yarns, and anything else that has inspired us.
While their workshop is a marvel of precision craftsmanship, it's also a haven for creativity, a laboratory where we can put our design vision to the test. If we're excited to create something we've never tried before—a different blend of yarns, an updated weight, a new type of stitch—their team is ready and willing to offer their expertise and help orchestrate our ideas. Sometimes they'll help steer us in a different direction. The exchange goes both ways.
Once we've narrowed things down, the workshop will begin crafting prototypes that we'll then review for aesthetics, fit and quality. For our more intricate sweaters, this usually takes several rounds of trial and error before settling on a final design. Creating something from scratch like this is a painstaking process, but it's essential to innovation.
At this point, it's a bit like a pastry chef who has finally settled on a treasured recipe, knowing that it now has to be re-created on a more substantial scale.
Spun in Italy, the yarns, from exceptional Merino wool to the world's finest cashmere, arrive at the workshop in a technicolor of cones. The cones are slotted onto best-in-class Stoll knitting machines to begin the process.
The machines methodically whirr as the yarns are knit into panels—the front, back, sleeves, cuffs, band and neck. As opposed to a "cut-and-sew" process, where fabric is knit into larger bolts and then has patterns cut out from them, our workshop operates in a fully fashioned manner.
Every angle, every curve is measured to perfection and comes off the machines exactly how it will exist in the final garment. This is significantly more time-consuming, but it facilitates precision and minimizes waste. Sustainability is important for its own sake, and especially so when you are working with such precious materials.
Once the panels are formed, the next step is known as linking, where all the panels are joined by hand. While expert craftsmanship comes into play throughout the process, this is where it truly shines. Needle by needle, loop by loop, the sweater begins to take its final form, guided by the expertise of artisans who have mastered this skill through countless hours of practice. It's an art that requires a steady hand, nerve and incredible patience. The process demands at least five years of apprenticeship to attain competence, and the artisans linking our sweaters have been honing their skills for 10 years or more.
This painstaking step takes about 10 times longer than it would by machine. As an example, one of our Artisan Crafted Cashmere Quarter-Zips typically requires at least two hours to complete the linking process. The quality that comes as a result is second to none. Carried out with care, in the best of British textile tradition, the hand-linking process delivers a perfect connection between the panels. You'll feel it every time you wear it.
Once the sweater is fully formed, buttons, fasteners, zippers and labels are attached by hand as needed. Upon completion, the sweater is carefully reviewed from top to bottom. Any imperfections will be hand remedied with a needle and thread.
For washing, the final step, timing is everything. Pull the garment out too early and it will come off too stiff. Wait too long and it loses its integrity. Get it just right and the softness can be otherworldly. Executing that perfect recipe demands experience and a hands-on approach.
A standout piece for the Fall 2021 season was the Descent Patchwork Shawl Collar Cardigan, made from 100% camel hair. Like the finest cashmere, the yarn originates from animals raised in inner Mongolia, where dramatic temperature swings help create a raw material that is durable, thermoregulating and unbelievably soft. At the London workshop, the piece is crafted using more than 10 different stitch types, creating a piece that is both visually complex and delightful to wear.
Because everything happens under the same roof, our partners have complete control over their craftsmanship, and the continuity in the creation shines through in the quality of the final garments. It's a joy to collaborate with this exceptional team obsessed with creating beautiful sweaters just as much as we are.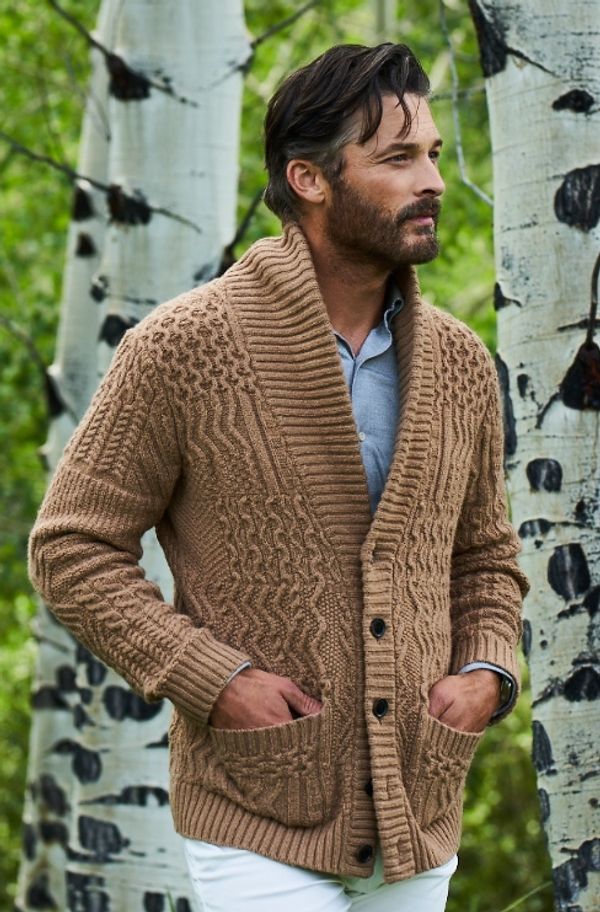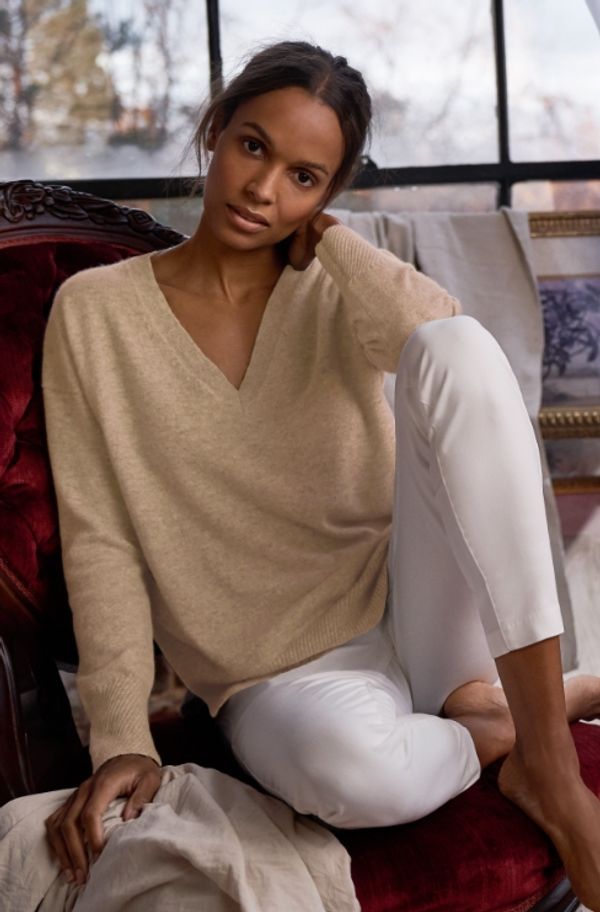 Shop Sweaters
Explore the range of our exceptional sweaters
crafted for ultimate comfort and timeless style.