Gil
Hanse
Journey Inside the Mind of World-Renowned Golf Course Architect
G il Hanse stoops to collect a handful of sand from a fairway bunker. Shaping, molding, crafting contours, he pieces together a rough model of the final yards of the hole that stretches out ahead. For one of the golf world's most celebrated and sought-after architects, at the heart of it, he's just a guy who likes messing around in the dirt.
After making his point, he swipes away all evidence of the model with his foot. In this case, it was just common course etiquette in prepping the hole for the next player who misses their mark. But this is also the way Hanse and his design partner, Jim Wagner, like to demonstrate their vision in the field to their team (a.k.a. the Cavemen) as they are cutting and restoring courses across the world. At the end, they also wipe the ground clear.
There is something primal, elemental, fittingly caveman-esque about this preferred method of presentation. And there is also the symbolic gesture of returning the land to its natural state.
Unless you're a golf junkie, you may not have ever heard Hanse's name before. Alongside his partner, Jim Wagner, he heads Hanse Golf Course Design, widely regarded as one of the key players in designing, renovating and restoring many of the world's greatest golf courses. If you follow the game at all, you've probably heard of courses that have benefited from their restoration work. Winged Foot, home to last year's US Open, and Southern Hills, which will host the PGA Championship in 2022, are of special note, as is Pinehurst No. 4. Original designs include courses like the Olympic Course in Rio, Boston Golf Club, Streamsong (Black) and Ohoopee Match Club, where we met him for a visit.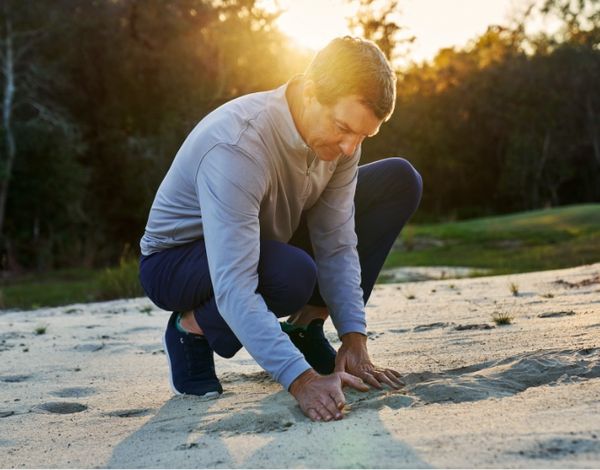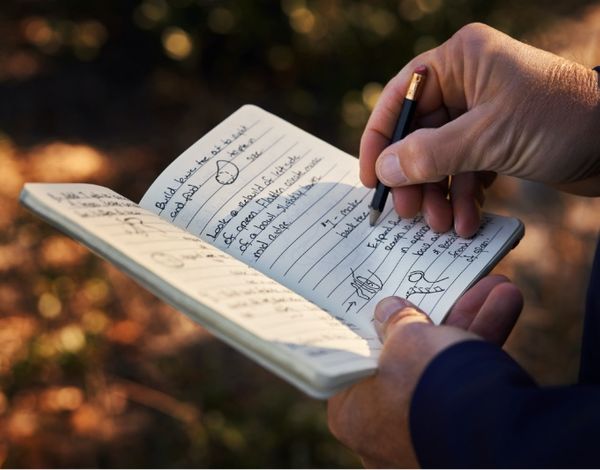 "We can only put you in one place on every hole. Once you're off the tee box,
you can be anywhere."
Golf course architecture takes many forms. Some subscribe to a more maximalist school, shaping land to suit a vision and manicuring every inch to perfection. Others might carry with them templates of certain styles of holes and look to insert them where they fit into the land. And others, like Hanse, prefer to work more organically, absorbing what nature presents and keeping its character intact as much as possible.
Hanse is the first to concede that a golf course is about as "unnatural a landscape as you'd ever find anywhere." You don't stumble out of the forest one day, pull out your seven iron and start playing. But it's not confined to a mostly uniform set of boundaries like other sports that involve chasing a ball across grass.
"Golf is a game that's played over a landscape that's never replicated from one place to the other," he says. "Within that we find the beauty of the game. As golf architects, we can only put you in one place on every hole. Once you're off the tee box, you can be anywhere."
That space of "anywhere" is loaded with decisions. Consider the scope of work that Hanse assigns himself when crafting a course from scratch. In addition to navigating all the operational and regulatory concerns, he insists each should be imaginative strategically, present variety and be unique from previous work. It's staggering.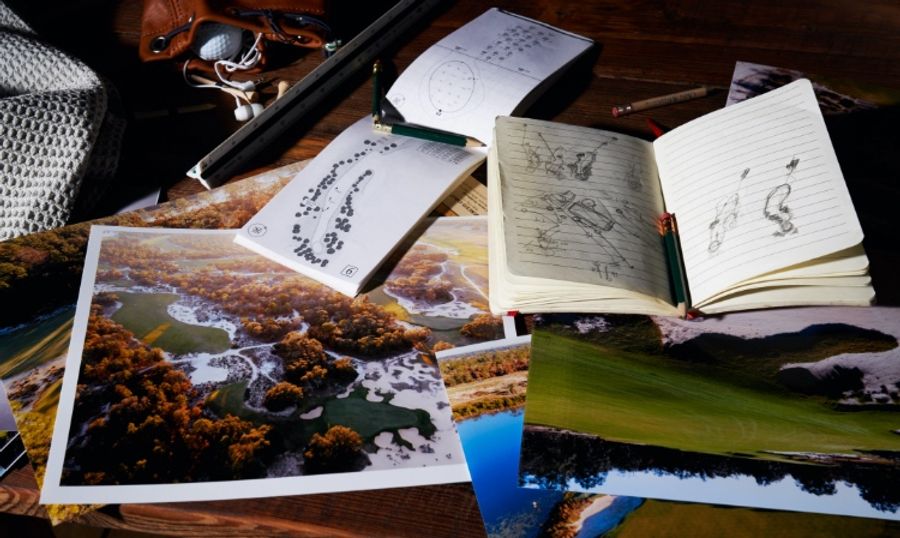 The concept of architecture conjures images of plans and permanence. When you are working with ever-shifting elements instead of carefully sourced materials, you're dealing with something else entirely.
"There's something in our brains that always scrambles everything and brings you back to a more orderly form," Hanse suggests. "Nature doesn't have that."
What Gil Hanse seeks is not perfection, but purity, and, despite all of the countless considerations involved in his work, simplicity. A communion with the natural world.
"The best examples of golf architecture are indistinguishable from nature. Sometimes you get to a point where it's actually counterintuitive," Hanse notes. "You need to move more dirt to make it look like you've moved less because you need to stretch the parameters and get the tie-ins right."
The key is injecting and strictly maintaining these more unnatural features where they are necessary to facilitate play, and allowing the elements to do the rest. A description from Bill Kittleman, a mentor and the longtime head pro at Merion in Pennsylvania, always stuck with him.
"He said, 'Golf courses are a lot like old tapestries,'" Hanse recalls. "In the center, the colors are vibrant, everything is tightly wound and bound together. That's the greens, tees, and fairways. As you get to the edges, it gets frayed and a little bit faded through the years, everything pulling out to the sides, the colors mute. All that energy is transferred and diffused into a perfect blending of the surroundings."
Through restoration and renovation work, Hanse and his team also maintain an intimate relationship with some of the greatest architects of the past. While he concedes that "you should be wary if any architect ever said they prefer to do restoration over new course work," he understands how central this work has been to his career progression. Judging by the glittering list of historic courses he's been entrusted with, it's also clear that he's extremely good at it.
"I do really enjoy restoration work, the opportunity to study what somebody like Tillinghast was doing at Winged Foot, or somebody like Seth Raynor and Charles Blair Macdonald were doing at Sleepy Hollow, what somebody like George Thomas did at L.A. Country Club," he says.
There is an inordinate amount of preparation and research in his team's work, regardless of the form it takes. Renderings, hand sketches, historical photos, topographical maps—everything is on the table.
Starting from scratch, first comes an in-person survey, what he calls "cataloging a site," marking areas of interest, jotting down notes. Then it's back to the drawing board, and back to the field, with a framework in place. In the field, change is inevitable, even welcomed. A slight tweak of a bunker edge here, moving a tree to help the grass set in there. A greens complex that ends up expressing itself differently in practice than on paper.
Hanse and Wagner pride themselves on giving their team creative liberty, fostering the type of improvisation that Hanse admires in bands like the Grateful Dead. It all comes back to those transient models in the dirt.
"If all the guys who work for us are doing is trying to replicate what we've laid out, it's going to be limited," he says. "We don't want them to feel stifled. We want them to be able to take their solo and go wherever they go."
To sum up the hallmarks of a Gil Hanse course, you'll generally come back to a few key descriptors. When you bring up concepts like "signature hole" or "design signatures," though, Hanse bristles.
"If we build a signature hole, then that means the other 17 holes aren't very good, so why would we seek that?," he stresses.
And is there a Hanse fingerprint?
"I hope there isn't," he says. "I hope that there's a sense of, 'They've maximized the land, but every golf course feels different in the environment that it sits in.' If that's a trait or a characteristic that we have, then that's a positive one."
Sit with him for a period of time and you understand there's no ego involved, just an immense amount of care. He talks with such conviction that you leave thinking that there's actually no other way to approach course design. It's not "I'm right, so-and-so is wrong," by any means. It's just convincing.
So is his commitment to match play, a style of golfing in lockstep with the spirit of the game but often lost in the devotion to the handicap system, what he calls the "card-and-pencil mentality." In layman's terms, match play takes the emphasis from notching a low round over 18 holes and places it on winning individual holes, encouraging risk-reward shots and competitive camaraderie rather than a more measured approach.
Ohoopee is his modern-day magnum opus to this style of play. Given its private status and remote location beside a sandy river in Georgia, the course can fly a bit under the radar. For those in the know, it's one of the most distinctive destinations in American golf.
"It was the best site we've ever been given to work on, with an owner who was really creative and thoughtful," he says. "We're not worried about anybody writing down an eight on their scorecard. You just lost the hole and you move on. It was probably the most liberating project we've ever done."
The life of the course architect, especially one who insists on having boots on the ground the way that Hanse does, is inherently nomadic. To find the most fulfilling projects, you'll often find yourself away from home for extended periods.
So what's the secret to becoming a top golf architect? At the end of the day, for Hanse, it's simple: "You marry well."
He recognizes the sacrifices that his wife, Tracey, and his family have made in order for him to have the opportunity to pursue his passion, and his craft, and he's endlessly grateful.
The golf world should be too.
"The best examples of golf architecture are indistinguishable from nature."