Caddies
of Kiawah
Guardians of The Ocean Course
Home of the 2021 PGA Championship
S wirling wind. Stifling heat. Watch out for sandburs. "You might want to just take a drop here. That's gator territory." This is supposed to be fun? Welcome to The Ocean Course at Kiawah Island Golf Resort.
One of golf's most challenging destinations maintains its reputation as a place to rattle the nerves of even the most skilled players. If you are not ready to battle, and if you are not prepared to swallow your pride, you might want to find a different place to play. And yet just about everyone who walks off No. 18 green has a huge smile on their face.
How do you explain that? Some of it comes down to the stunning scenery across this unique course. A huge part, though, comes from the guardians of the beast—the caddies.
The relationship between caddie and player goes back centuries. The caddie is a guide, an ally, a hype man, a friend, a psychologist and a sherpa, all wrapped up in one. Often, they're not just carrying your bag; they're carrying you.
And a caddie's influence is doubly important at a place like The Ocean Course. The men who ply their trade here come from all over the country to shepherd titans of industry, bucket list chasers and Tour professionals across one of the signature creations of master architect Pete Dye and his wife, Alice.
Every caddie spoke about the course not requiring much change to host the upcoming PGA Championship. As Hugh Morrison, who's been here for more than a decade, says, "Cut the greens down a little bit, grow the rough up a touch, and we're ready to go." A course like this requires a steady hand to direct someone who has never played it, and even those who frequent it.
"That could have been the easiest hole yesterday and it's one of the more difficult today. The wind really dictates everything out here."
There are the assumed skills—keeping clubs clean, tracking down balls, the physicality required to haul bags over miles under the blazing sun. Occasionally you're playing the role of a parent—advising more sunscreen, a drink of water, a quick hit of bug spray when the wind goes slack. These are a significant part of the actual job, and clearly important, but a talented caddie works more on the cerebral level.
Like a seasoned harbor pilot navigating tricky shoals, much of a caddie's skill comes down to articulating space. Oftentimes it seems like there is no room to move, when there is. Other times it seems like there's an obvious play, when you need to be taking a completely different line. The overall sense among the caddies is that though the course contains a few optical illusions, if you play with commitment, it's not designed for constant trickery. It's a fair enough trial if you respect it, even with all its persistent demands.
As a caddie, the faster you're able to get a sense of your players' game, the better round they're going to have. Sizing them up begins as soon as you pick up their bags. Just about every caddie said that after watching a warm‑up on the range, by the second hole they had a confident read.
The most important trait to become a successful caddie? The men were nearly universal on this: patience, patience, patience. Practicing perseverance is paramount. You have to learn to deal with adversity, helping your player to do the same.
Adaptability is second. Danny Phillips, a 12‑year veteran here, describes every day as "a box of chocolates." Because of the nature of the place, on any given day they'll take care of golfers from all walks of life, skill levels and ages. They have to be ready for anything when they show up early in the morning.
The course itself is a chameleon too. "You could call it a 36‑hole course, if there's an east or a west wind. That could have been the easiest hole yesterday and it's one of the more difficult today. The wind really dictates everything out here," Danny mentions.
So how do they help people realize a successful round out here? It starts with tact. Sometimes it's best to hang back; other times it's best to be hands‑on. Reading the players is as important as reading the greens, if not more so. It's essential to manage their expectations, learn where they're coming from and cater to their personality instead of taking a one‑size‑fits‑all approach.
Most of the guys also speak to the importance of maintaining, and fostering, a sense of humor. Golf can be a cruel game. As Gary Edwards, head basketball coach at local Francis Marion University and part-time caddie, puts it, "Celebrate the good shots and don't worry about the bad ones." If you can't bring some levity to the table, you're going to get swallowed up.
As many of them describe it, golf IQ and course management matter so much more than their own skills as players, even though several still play at a high level. Offering a quick technical tip or two and the right amount of encouragement at the right time can boost morale, but they're not going to reconstruct a player's game out here. The course is doing enough as it is to mess with the mind of the player; they don't want to add to the mix.
There's also a self‑preservation aspect to measuring your advice: "I don't like to put too many swing thoughts in guys' heads because that just turns into me running around more than I need to," adds Patrick "Puddles" Wright.
"Celebrate the good shots and don't worry about the bad ones."
While the old "keep up, put up and shut up" adage might occasionally be relevant, the art of caddying goes far beyond it. These men deeply understand the personality of the course and in many ways are the face of it, spending more time with members and guests than anyone else at the resort. While they all aspire to advise on the right strategy and reads, the most enduring reward to the profession is, as caddie Kenny McAvoy describes it, "knowing that we can help bring the experience to the highest level—I love doing that."
Danny takes it a little further. "When I'm going over something with somebody and actually see it resonate—the look on their face at how well they're playing and performing—maybe it's chicken soup for my soul, but I really like those moments."
If you're lucky enough to develop a strong bond with a player, the rewards might stretch beyond just a nice tip too.
"I have one member who especially comes to mind because I've been here for 15 years, and almost all 15 years I've been with him," Puddles mentions of one of his regulars. "He actually brought me and two of my other caddie buddies over to Scotland a couple years ago. That was the trip of a lifetime and something none of us will ever, ever forget."
A round with a caddie by your side is one of the singular joys of golf. Sharing laughs, trading stories, understanding the nuances of the course stretched out in front of you. They'll be witness to how you handle triumph and adversity, and even when the words might be few, the camaraderie established over 18 holes represents the purest spirit of the game. A good caddie can be the difference between an enjoyable round and an unforgettable experience.
A huge thank-you to all the caddies and staff at Kiawah Island Golf Resort for their support.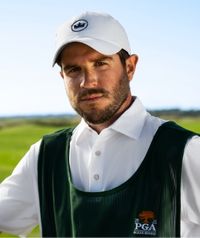 Danny Phillips
Youngstown, OH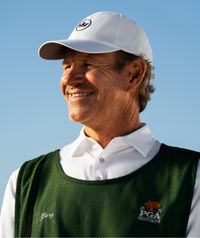 Gary Edwards
Virginia Beach, VA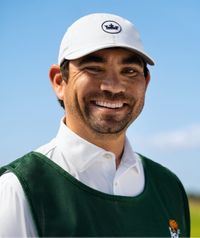 Hugh Morrison
Macon, GA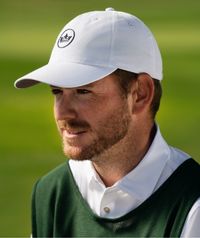 Kenny McAvoy
South Lake, TX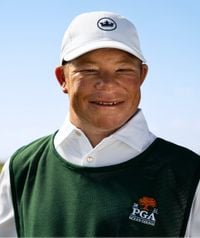 Patrick Wright
Northfield, VT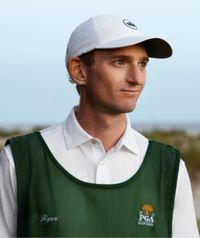 Ryan Spurr
Charlotte, NC