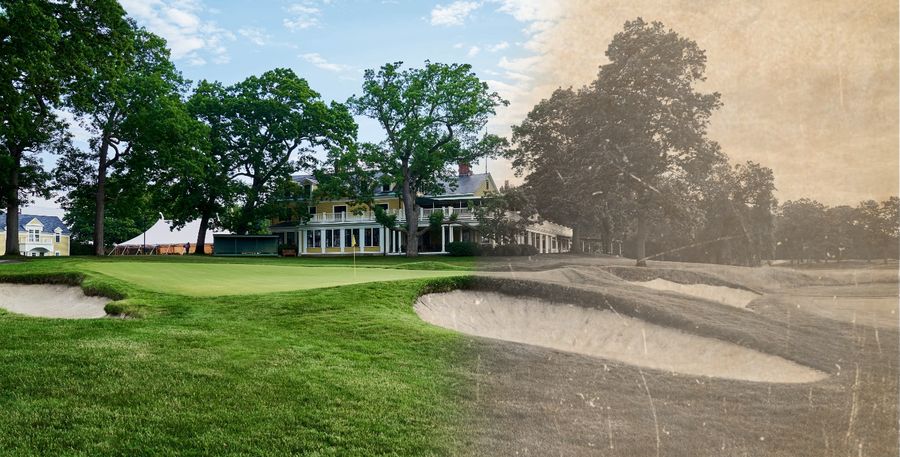 From past to present at The Country Club
in Brookline, Massachusetts
Host of the 2022 U.S. Open Championship
T he Country Club. That's it. That's the name. Depending on your understanding of this Brookline, Massachusetts institution, it might sound a little too simple, even pretentious. But when it was founded in the early 1880s, the concept of a recreational club in the country was rare enough that the name didn't require any further description.
While we were at the club with artist Lee Wybranski, we also had the chance to visit with club historian Fred Waterman, who has been a member since 1989, when he joined after he covered the 1988 U.S. Open at TCC as a journalist.
As Waterman explained, the club originated as an escape from the city, primarily for members to watch horse racing and steeplechase. Golf was not a part of the picture until 1892, when the members agreed to spend $50 constructing six holes. Soon after, Willie Campbell, a Scotsman and professional player, was hired on as both club professional and architect. He designed three more holes, and the club added another nine before the turn of the century. TCC would eventually become one of the five founding clubs of the USGA.
In those early days, when golf was first proposed by a few members as a potential new activity, the game was more of a curiosity than anything else. A select few people in the country could even identify what a golf club was for, Waterman noted, to the point that sets brought back from overseas were often seized in customs, believed to be weapons.
Understanding the history takes it from a beautiful course
to an almost mythical landscape.
The noteworthy tournaments that have taken place at The Country Club are almost too numerous to name. It's an inspiring place to experience, even when removed from its rich history, but understanding the history takes it from a beautiful course to an almost mythical landscape.
In 1913, the club became a permanent fixture in the storybook of golf, providing the backdrop for an event that is unlikely to be topped in the history of the sport. Young amateur Francis Ouimet, a 20-year-old who grew up across the street from the club, played David to two of golf's Goliaths, Harry Vardon and Ted Ray. Ouimet ended up winning an 18-hole playoff on the final day of the U.S. Open Championship by five strokes, with a 10-year-old named Eddie Lowery as his caddie.
This unfathomable feat became front-page news across the country and the Ouimet story has been immortalized in both written and cinematic form. It was essential in sparking a widespread interest in golf in America.
The iconic yellow clubhouse nestled behind No. 18 green has seen other noteworthy stories unfold over the years too. The most recent two U.S. Opens held here, in 1963 and 1988, were both decided by playoffs. And the '99 Ryder Cup saw an American team captained by Ben Crenshaw doggedly come from behind to defeat its European counterparts on the second-to-last hole on the final day. It was the biggest final day comeback in Ryder Cup history.
The championship course draws upon a selection from the 27 holes located on the property. For the first time in history, the routing for the 2022 U.S. Open will include TCC's 131-yard downhill par-three, hole No. 12 in the main course routing. Jack Nicklaus spoke with great admiration about this small strategic hole.
Because the course's design originated in the pre-Golden Age era and was gradually pieced together over the years, there's not an untouchable architectural legacy like there would be had someone like Ross, Macdonald, MacKenzie or Tillinghast been responsible for the routing.
The noteworthy tournaments that have taken place at The Country Club
are almost too numerous to name.
Make no mistake, though, certain holes, like No. 17, that was so pivotal in both Ouimet's win and the Americans' '99 Ryder Cup victory, remain sacrosanct, and there is a deep respect for history here that is understandable given the sheer scope of it. As Waterman notes, there's a willingness among members to adapt and update when it's necessary, particularly as they prepare to host tournaments.
"There's a difference between someone saying, 'What an old hole,' and, 'What a great old hole,'" he says. "If the course can still be that great combination of history and quality, then it becomes revered."
And partnering with someone like Gil Hanse, one of our featured Artisans of Craft last season, to handle the most recent updates proved to be a masterstroke.
"The Club hired Gil in 2007 on a recommendation from Ben Crenshaw and Bill Coore," says Brendan Walsh, the Director of Golf at TCC. "Gil does a wonderful job taking the existing land to make positive changes, but not taking away from the character, beauty, history and natural landscape of the property."
Aesthetically, it still feels in places like it's been frozen in time.
"If Gil's changes had been done in 1909, rather than 2009, they would have still fit the course, and that's probably the best compliment that could be offered," Waterman says.
So, what will be awaiting the Tour players teeing it up here next summer?
"They're going to see the long rough right around the greens and realize how essential accuracy is," Waterman says. "It's a satisfying golf course to play because you have to solve it to play well."
The fascinating, meandering course colored by rock outcroppings is a treasure in American golf. It's proven over the years that while equipment may continue to change, TCC remains a timeless test of golf IQ and a catalyst for final-round drama. We'll be expecting some fireworks when the tournament comes to town in June next year.
Special thanks to the team at The Country Club.