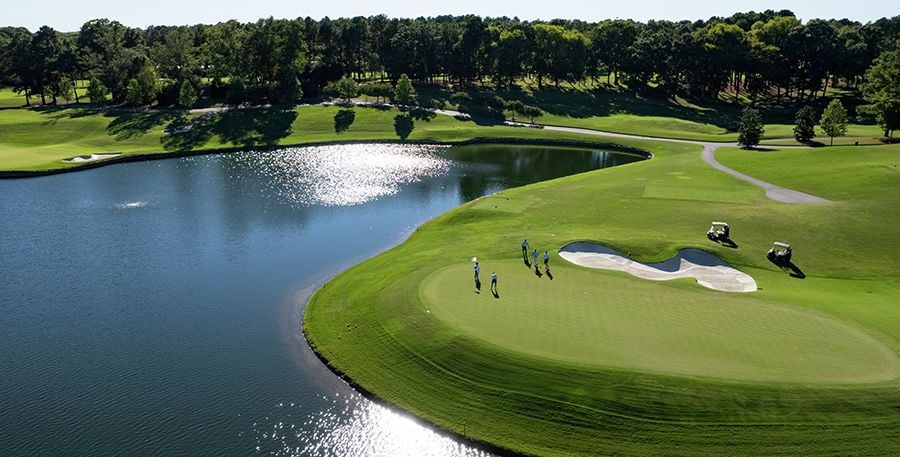 2022 PRESIDENTS CUP HOST
Quail hollow club
Charlotte, NC
H ow do you manifest an exceptional golf club from scratch? A great course, one that inspires you to want to play it over and over is a good starter. A great practice area. A well-appointed clubhouse, with quality food and a well-appointed bar definitely helps. At the end of the day, what separates a great place from the herd is its atmosphere, and especially its people—members and staff included.
In 1959, Jimmy Harris and a few of his friends were running into the same issue plenty of golfers are still facing today. Getting tee times at their local clubs in Charlotte was becoming a pain, and even when they could get on, their courses were backed up. Their passion for wanting to play more often, and play faster, inspired them to start a club from the ground up.
It helped that Harris's family had a plot of farmland outside town that was ready-made for development. He was also a member at a certain prestigious club down in Georgia, so he had a benchmark for how things were done at the best of the best.
And it most certainly helped that Harris was close friends with Arnold Palmer, who promised the 25 founding members that if they could get the club off the ground, and do it right, he'd help bring a PGA Tour event to them. Mr. Palmer made good on his word, helping to set up the Kemper Open, which was hosted at the club for 11 years.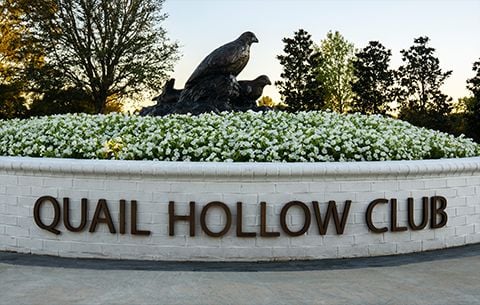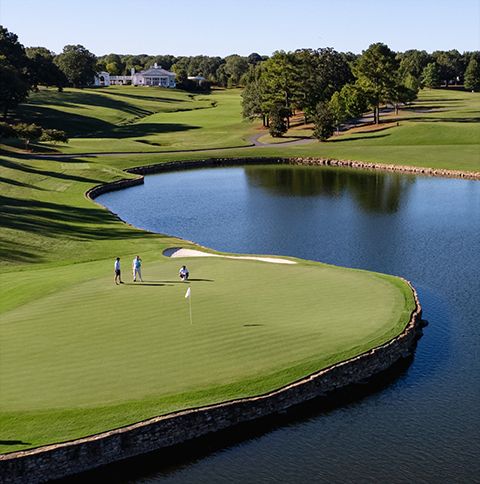 From day one, the club was built with the mindset that it needed both to be set up to challenge the best in the game and appeal to its members. It's a big ballpark, with sweeping fairways, lengthy par-5s, scores of risk-reward holes and plenty of room throughout for spectators to gather during tournaments. Originally designed by George Cobb, the club has evolved considerably over the years through the vision of Tom Fazio and Arnold Palmer himself.
Speaking with Johnny Harris, son of Jimmy and Quail Hollow's club president since 1988, and his son, Johno, it's clear that Palmer's influence resonates to this day far beyond the course.
"He told me the last time he was at Quail Hollow, 'Greatness is a program where you've got to continue to build,'" Johnny said. "The challenges that Arnold put on himself about the game, and he certainly held his friends on the Tour higher standards, but he also held Quail Hollow to a higher standard. I don't have a single day that I don't think about an idea or a new approach or something we can do to try to make Quail Hollow even better."
Those high standards eventually helped bring professional golf back to the Queen City, first with the Wachovia (now Wells Fargo) Championship starting in 2003, then the PGA Championship in 2017. And the club will have the eyes of the world on them again in 2022 when the Presidents Cup comes to Quail for the first time, the first prominent team golf event in North Carolina since the '51 Ryder Cup at Pinehurst No. 2.
For the upcoming tournament, the course will look a little different than it does for the annual Tour stop.
"The first conversations that we had were about the nature of match play—a large number of the matches finish on the 16th hole or before," said Johno, who is Presidents Cup Chair. "We changed the routing to make sure the Green Mile would be in play. So the players will play 1 through 8. They'll go behind the existing 11 and go straight to 12, then 12 through 18, which means that the 16th hole is really the 18th hole on a normal layout. And the last three holes will be 10, 11 and 9."
With the straight Bermuda grass that will define the course and faster conditions afforded to a late-summer tournament, there should be plenty of thrills and spills for the fans to enjoy.
While known to the outside world for its championship pedigree, to its members, it's much more than that.
"Quail Hollow, for a lot of us, is a second home, plain and simple," Johno said. "It's a family. The staff are just as much a part of the family at Quail Hollow as the members are. I think that's extremely important."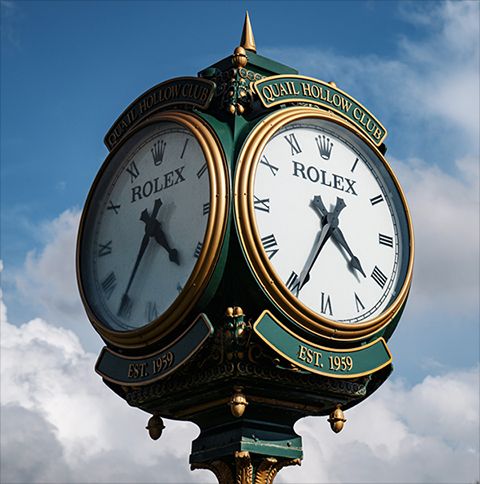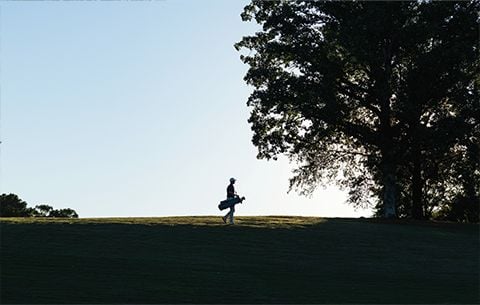 Allowing their staff to shine during the tournaments has been as much a key feature of the events as the course itself, and it's a big reason why many Tour players and their caddies have such a soft spot for the club.
"What we wanted to do from the beginning was to make everybody that came to Quail Hollow feel a special hospitality that is the club, and to do a job that nobody else was doing," Johnny said.
To Johnny, fast play, fun and fellowship, and a commitment to being serious about your stewardship of the game and its growth without taking yourself too seriously are key tenants at Quail. He lives them himself, he's passed them down to Johno, and he's leading a club that embodies them every day into its next chapter.
Mr. Palmer would be proud.