Golf is a funny game. Some rounds everything falls into place effortlessly. The ball finds the bottom
of the cup as if by divine right. Others, even when you're channeling the same feeling, it's just not
happening for you. Coping with these swings in fortune can be mentally exhausting for any golfer,
even more so if you're playing for a living. But chasing your childhood dreams and having your
goals within striking distance is something only a select few pros ever get to experience.
It's been that kind of season for Cameron Young.
Fresh off two straight wins on the Korn Ferry Tour, the #TeamPM ambassador and Wake Forest
alum came by our Raleigh, NC design studio before teeing it up at the Rex Hospital Open. He walked
us through his remarkable whirlwind year of competition. On the verge of securing his PGA Tour card
after starting the season with no status on the KFT, he also recently played his way into the 2021 U.S.
Open at Torrey Pines. This was his first major championship as a professional, having played
in the 2019 Open at Pebble Beach following his college graduation.
Special thanks to Cameron and his caddie, Scott McKean, for their visit. Read on for some more
insight into one of golf's most exciting rising stars.
Q: You have definitely taken the uphill route to the position that you're in today. Can you talk about the journey of your career
so far?
A: I started kind of like everybody else. I played Latin America Q-School in January of 2020, missed. And then played Canada Q-School a couple of months later and got through, so I had Canada status, and that's when COVID started. So we played our final round the Friday that the entire country shut down. All of a sudden, everything was canceled. So we're kind of back to square one.
I wanted to start playing Mondays so I played like five in a row and I played a bunch of mini tournaments in between. I'd go play a Monday—Sunday practice round, Monday qualifier, drive in the mini tour van, play on Tuesday, play the mini tournament on Wednesday, Thursday, Friday, Saturday. Then go on Sunday to the next Monday qualifier and then do it again.
Two- and three- and five-hour drives. So, I did that for a couple months. Finally got through to Omaha and then strung together four really good finishes to get myself special temporary status [on the Korn Ferry Tour].
From then on I missed a bunch of cuts. And then won twice. All of a sudden, I'm mathematically super likely to get my PGA Tour Card. I went from 70th on the money list to 13th, so I put myself in a pretty good spot in a very short period of time.
Q: What do you attribute
that to?
A: I just started putting a little bit better. Made a couple of little changes with that and it's just freed me up a little bit to just be a little bit more comfortable and more confident.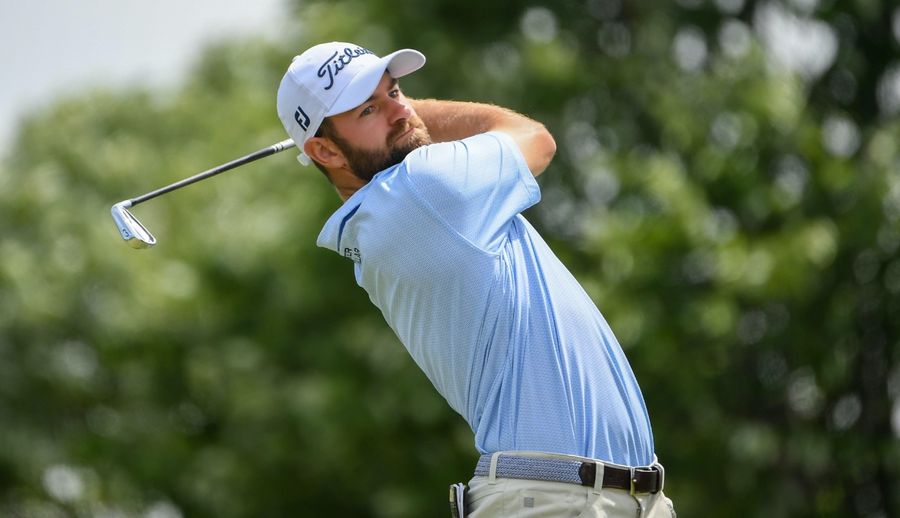 Q: What about on the mental side of things? Has your approach changed? What have
you learned?
A: There's always more you can pick up along the way, but it's been very much the same mentality the whole year. When we started in February, frankly, our goal was to get to the FedEx Cup Playoffs on the PGA Tour this year, which meant I was going to have to win three times and then I was going to have to win again on the PGA Tour.
So, kind of an out-there goal. But realizing that if I didn't do that, and I got a lot of the way there, I was probably getting a PGA Tour Card next year. And now I've put myself in a place where if I win again, I'm right there, and I could accomplish that goal.
Q: A year ago, did you genuinely think all of these things were possible, or has it caught you by surprise a
little bit?
A: I think you always think it's possible, but in the moment, playing Monday qualifiers, it's really hard to think about actually having some success and getting somewhere where you're going to have chances to play. Because Monday qualifiers are brutal. If you shoot six and seven under, you're not getting through.
So sometimes you can play as much good golf as you want and you're not even going to get to tee it up on Thursday. Just to even sneak into one of those [tournaments], never mind it turning into being able to play all year is—I mean, it is surprising. It just doesn't happen that often.
Q: Coming up the way that you did over the past year,
does that make success
taste sweeter?
A: Definitely. The middle of last summer, I had more events scheduled to play than I had money to pay for. I was pretty much out. My wife—she was my girlfriend then—was right there the whole time and saw what it was like for me to be, like, "I don't know what I'm doing."
It's been pretty cool to have that little journey. And it's come obviously a lot quicker than maybe was expected at the time, a year ago or 10 months ago. But I made it work and have taken advantage of the opportunities I've gotten.
Q: Did you always know that you wanted to be a
professional golfer?
A: From pretty early on, yes. Probably when I was at the end of middle school or early high school. I started to realize that I was decent at golf and that I liked it and that I wanted to work at it. And then realized that I could play in college. And then realized that of the guys that play in college, a lot of them turn pro. I'm going to try to play.
Q: Did you play other sports
growing up?
A: I played ice hockey through freshman year in high school and played baseball through eighth grade. So I had my breaks from golf when I was younger.
Q: And your dad works in golf
too, right?
A: He does. He's the head pro at Sleepy Hollow Country Club.
Q: Was he your coach growing up, and is he still
your coach?
A: Still is. Never had another one. He's been my coach my whole life and I don't see that changing anytime soon. We have a very good relationship. We communicate very well. He speaks in terms that I understand.
And at this point, I do a lot of [coaching] myself because I don't see him much. I see him for a couple months in the winter in Florida. So a lot of it is done through video and text. We both bounce ideas off each other all the time. He'll send me a random text that says, "Hey, I was thinking about this." Then I'll send him something at one o'clock in the morning because I can't sleep. The next morning, he's like, "Why are you awake? But also, that makes sense." So it's kind of an interesting dynamic.
He doesn't get to see me play often, but he's still very involved in what I do and the choices I make, both mechanically and career-wise.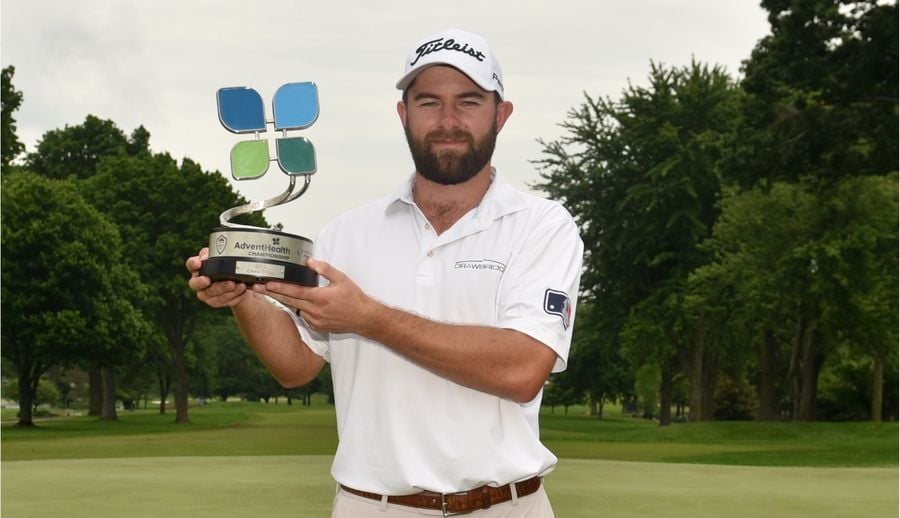 Q: Turning your career from Monday qualifiers to becoming a full-time player on the Korn Ferry Tour, what have been the
biggest challenges?
A: It's hard to say. Some of it is just managing yourself physically. It's being in a car a long time, getting on planes, not having really adequate gym facilities. Not being able to go see the guys I work with at home, and the gym.
At some point, you have to schedule yourself some time to rest. That's been a major thing, just learning that we don't have to be at the golf course playing and practicing all week long.
Q: I'm sure it's hard to convince yourself not to
do that.
A: Yeah. And especially because you know there's 155 other guys that week that are trying to beat you. But at some point, especially in the longer stretches, you're just better off being rested and happy than you are having hit an extra 500 balls.
Q: Do you think the Korn Ferry Tour is more competitive than it's
ever been?
A: For sure. And I think that will continue to be the case. I think people will say that next year and the year after that, and it will be true. As there's more access to younger kids, there's going to be more good players that are 22 to 27. They're on the Korn Ferry Tour. It's just going to get harder and harder.
Q: Are you a
big tinkerer?
A: Not really. I would say I'm very picky, but not really a tinkerer, if that makes sense? When I start to feel something, I'm not afraid to change it, though. If I have something that I feel could be better, I'm not afraid to just throw it in the bag. We changed the wedge shafts two weeks ago and I won immediately. The week after, it was, "Nathan [from Titleist], this doesn't look right to me on the wedges." And he's like, "Okay," and he ground off some of the front of it. Put it in the bag, won again.
It's not that I want new stuff or anything, it's just there's always something that you just feel like could be better. The guys at Titleist are awesome about that. They're all really good at their jobs. They help us out a lot.
Q: Most important club in
your bag?
A: The 52-degree wedge.
Q: What are you working on
the most?
A: I focus a lot on my distance control, especially short middle irons because it's like they always say out there: "Hole high is always closer." If someone hits it right at it and you hit it what looks like 20 feet right, the other guys are never as close as you think. So that's probably one of the things that we've gotten best at over the course of the last year—just judging distance and being able to hit it on the flight on numbers.
Q: And that's leaning
on TrackMan?
A: Yeah, a little bit, and just experience. The more we go from place to place and understand different grasses, the different temperatures, it just seems like the better we get at it. I think that's a huge asset.
Q: What do the next six months look like for you, if you can even say at
this point?
A: I'm obviously not mathematically locked up to be on the PGA Tour, but I'm either going to get to 1,700 points or win again as fast as I possibly can. That's what our eyes are set on now, just to make sure that I have a PGA Tour Card one way or another.
Because that's where you want to be, with all due respect to the Korn Ferry Tour. They've been great. I love all the people. It's a great tour, but I don't want to be there. I think everybody would say the same thing. They're all trying to get off the Korn Ferry Tour as soon as they can, because everybody wants to be on the PGA Tour and be playing majors.
So, that's the goal. That's what we've had our eyes on all season and that's where we want to go as soon as we can.
Cameron Young
Korn Ferry Tour Professional